Invited Speakers
Prof. Yuanjie Su
School of Optoelectronic Science and Engineering, University of Electronic Science and Technologyof China, China
---
Speech Title:
Piezoelectric Fiber Composites with Polydopamine Interfacial Layer for Self-Powered Wearable Biomonitoring
Abstract: Introduction: As our world is marching into the era of Internet of things, wearable bioelectronics are becoming ubiquitous within our daily lives. Doping polymers with ceramic nanofillers is a widely-adopted routine for developing high-performance nanocomposites. However, the significant modulus mismatch and poor interfacial adhesion between the rigid piezoelectric ceramics and flexible polymers becomes a common challenge in respect to their combined utilization, which dramatically inhibits the stress transfer ability and thus largely undermines the electromechanical coupling efficiency. Herein, a dopamine based interfacial-adherent layer was designed between the inorganic BTO nanofillers and the organic piezoelectric polymer PVDF, aiming at modulating the mechanical strength and electromechanical coupling efficiency of the piezoelectric nanocomposite (Figure 1a-f).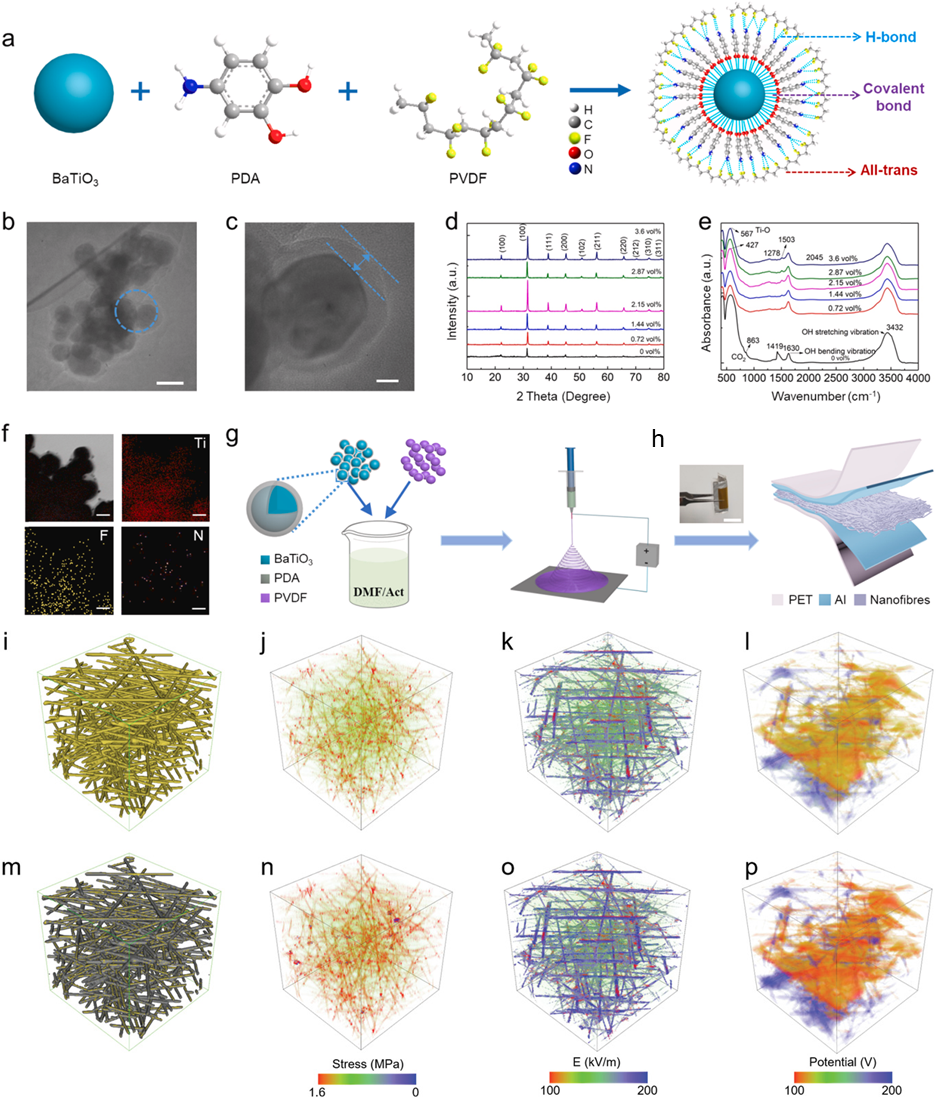 Figure 1a-p: High-performance piezoelectric textiles for wearable physiological monitoring with polydopamine interfacial layer
A phase-field simulation in combination with a detailed experimental investigation was carried out to study the mechanism and functionalities of dopamine as the connection at the inorganic-organic material interfaces (Figure 1i-p). Device fabrication: Surface Modification Using Dopamine: preparing Tris buffer solution (pH 8.5, 10 mm). Then, 100 mg BTO was added and ultrasonically treated for 30 min. Subsequently, 120 mg of DA·HCl was added to the solution and magnetically stirred at room temperature for 24 h to from suspension. During the stirring processes, the surface of the BTO nanoparticle was coated with a PDA layer because of the self-polymerization of DA. Preparation of Sensing Materials: 68 mg of the prepared PDA@BTO nanoparticles was solved into a mixture of DMF (6 mL) and acetone (4 mL). A follow-up ultrasonic treatment was conducted for 20 min to make the nanoparticles evenly dispersed in DMF solvent. Then, 2.25 g of PVDF powder was added to the mixture, followed by magnetic stirring for 2.5 h under a 50 °C water bath. This process facilitates the formation of hydrogen bond, leading to a stable and homogeneous PDA@BTO/PVDF spinning precursor mixed solution. Fabrication of Textile: After the solution was stirred, 30 min ultrasonication was employed to further disperse the nanoparticles. The composite film was obtained by the electrospinning process (Figure 1g). Subsequently, the flexible nanofiber composite film was cut into small pieces of 2.6 cm × 2.3 cm, and two pieces of aluminum tape (1.8 cm × 2 cm) were attached to both sides of the composite film as electrodes to form a "sandwich" configuration. Finally, the device was seal with medical tape (Figure 1h). Results and Conclusions: Both experimental and theoretical results indicated that the introduction of 2.15 vol% polydopamine (PDA) coating on the BTO nanoparticles could remarkably promote the local all-trans conformation and modulus match at the nanofillers-polymer interface, giving rise to the maximum piezoelectric charge coefficient and piezoelectric voltage coefficient as well as mechanical stiffness. Furthermore, the PDA modified electrospun piezoelectric textiles demonstrate high sensitivity and wide pressure sensing range of pressure sensing, revealing an outstanding capability of real-time limb motion detection, facial emotion identification, respiratory monitoring and human-machine interfacing. This work not only sheds light on the fundamental understanding of the interfacial coupling mechanism in piezoelectric nanocomposites, but also endows design strategy for modulating/optimizing piezoelectric wearable electronics.
---
Dr. Julian David Hunt
International Institute for Applied Systems Analysis, Austria
---
Speech Title:
Electric Truck Hydropower, a Flexible Solution to Hydropower in Mountainous Regions
Abstract: The world is undergoing a transition to a more sustainable energy sector dominated by renewable energy sources. This paper proposes an innovative solution that consists of catching water from streams at high altitudes to fill storage containers and transport them down a mountain, converting the potential energy of water into electricity with the regenerative braking systems of electric trucks and storing it in the truck's battery. The energy stored in the electric truck can be sold to the grid or used by the truck to transport other goods. Results show that the levelized cost of the electricity truck hydropower (ETH) is 30–100 USD/MWh, which is cheap when compared with conventional hydropower 50–200 USD/MWh. The electricity generation world potential for the technology is estimated to be 1.2 PWh per year, which is equivalent to around 4% of the global energy consumption in 2019. Apart from being a low cost and impact electricity generation technology, electric truck hydropower can operate in combination with solar and wind resources and provide energy storage services to the grid.
---
Prof. Satyabrata Jit
Department of Electronics Engineering, Indian Institute of Technology (BHU), India
---
Speech Title:
---
---
Associate Prof. Dr.-Ing Alhassan salami Tijani
School of Mechanical Engineering, College of Engineering, Universiti Teknologi MARA, Malaysia
---
Speech Title:
Computational Analysis of Fluid Flow and Convection Heat Transfer Characteristics of Multiple Heat Sink for Electrical Power Stack Cooling
Abstract: Microelectronic devices are increasingly becoming miniaturized, especially in the semiconductor industry. The miniaturization of these Microelectronic technologies has significantly increased their power density. To meet the goals of achieving iindustrial revolution (IR 4.0), most manufacturing companies such as power transformers, battery banks of electric vehicles, CPU, industrial inverters and electronic circuit boards are continuously shifting towards downsizing. Thermal energy dissipation is the main challenge limiting these microelectronics' reliability and efficiency. In this research work, cooling performance of new design overlap heat sinks was investigated, two different designs were simulated using ANSYS FLUENT. Design 1 is a heat sink with trapezoidal fillet and symmetrical half-round pins in horizontal arrangement. Design 2 is a heat sink with half parabolic fillet and symmetrical half-round pins in a horizontal arrangement. Each design consists of 0% overlap ratio (non-overlap), 50% overlap ratio (partial-overlap) and 100% overlap ratio (fully-overlap). The accuracy of the results of this study was validated with experimental data. The findings from this study make several contributions to the current literature through heat transfer enhancement and electrical power stack space minimization. The results show that the partial overlap design has the highest Nusseslt number, followed by non-overlap and fully-overlap heatsink. At a velocity of 2m/s, the performance for non-overlap, partial overlap and fully overlap are 0.45, 0.25 and 0.15, respectively. The deterioration of the performance was due to increase in pressure drop penalty. Design 1 with fully overlap has about 30 % increase in pressure drop compared with design 2. Interestingly the heat transfer coefficient of partial overlap design (Design 1) is about 12W/m2.K which is about 36.6 % increase in heat transfer coefficient. In terms of space minimization, the fully overlap heat sink can be applied in minimizing electrical stack cabinet space, however for heat transfer characteristics, the partial overlap heat sink has a better performance.

---
Prof. Jose Rajan
Center for Advanced Intelligent Materials, Faculty of Industrial Sciences & Technology, Universiti Malaysia Pahang, Malaysia
---
Speech Title:
Sustainable Materials for Energy Storage Industry
Abstract: Emergence of sustainability as the new normal and consequent concerns over material sustainability for various industrial sectors accelerated materials discovery process from renewable sources. Energy storage become one of the dominant industries currently and most of the high performing energy storage devices such as lithium-ion batteries use expensive mined materials as electrodes with enormous processing and value addition. Biomass derived carbon has been suggested as a possible material for energy storage, however, they mainly suffer from lower performance indicators. We have explored augmenting properties of biomass carbon with small amounts (~5 – 10 wt.%) of metals or metal oxides to enhance the charge storage parameters in lithium-ion capacitors, battery–supercapacitor hybrids, and electrochemical capacitor storage modes besides developing eco-friendly and green routes for their processing using physical means than chemical methods. Four strategies were adopted: (i) enhancing the charge storage sites by filling large voids in porous carbon by hierarchical 3D nanoflowers or composite nanostructures, (ii) developing a thin metal oxide film over porous carbon surface through a simultaneous activation and coating process, (iii) developing a thin metal film over porous carbon, and (iv) green reduction of graphene oxide to reduced graphene oxide by means of physical methods than chemical ways. Several advanced carbon structures are thereby synthesized; in supercapacitive charge storage mode they gave charge storability of ~60% of lithium battery and ~10 times more power capability than lithium battery. Only 10% metal compositions could boost up the energy storage capabilities dramatically. Promising green processing routes are also developed which avoid large scale toxic chemicals for developing advanced materials.
---
To be updated…